5 Reasons to Use MobiKwik Wallet
There are already more than 5 million MobiKwik android app users, so you might already be the one of them. But if you still have not come across this very good service, you should definitely give it a try! If you ask me, why I use this app? I have my 5 reasons that made me to use Mobikwik Wallet on a regular basis. Let us have a look on those reasons. The reasons are in the order of Mobikwik app features and offers that I mostly use.
1. 15% Cashback on Movie Tickets
I love this offer! I already wrote an entire article about this offer – Discount on Movie Tickets in India. I think movie tickets in multiplex are way to expensive these days! You have to pay extra handling charges on the top of that, if you are booking your tickets online. Why not use MobiKwik to save 15% over whatever you pay at bookmyshow.com!?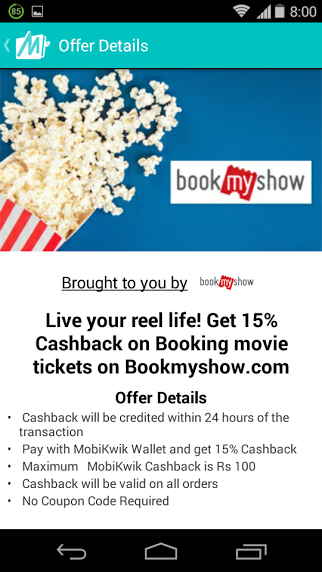 The maximum cashback is 100 Rs. 100 Rs. is the 15% of 666 Rs., just to save your calculation efforts. When you go on the payment page of bookmyshow.com, select MobiKwik Wallet as your payment option. You have to pay full amount first, but then you receive 15% cashback in your MobiKwik wallet in a short period of time.
2. Recharge Mobiles, DTH Services, Data Cards
MobiKwik allows to recharge prepaid and postpaid mobile numbers in India. If you already have balance in your MobiKwik wallet, the payment process is very simple! Enter the number, recharge amount and recharge! You can also pay using your debit or credit cards, netbanking account, if your wallet balance is not sufficient. It is also possible to recharge DTH, data card using the wallet. You can pay bills for landline, electricity and gas, all from your smart mobile phone.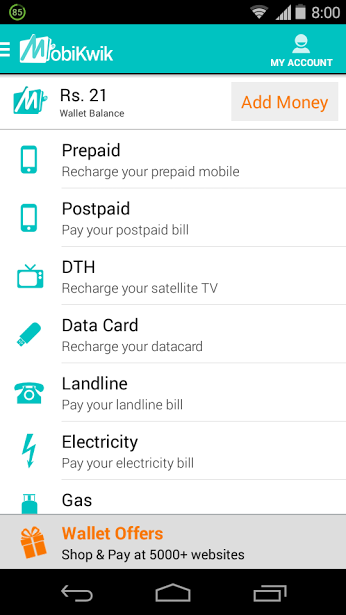 3. Online Shopping Offers
MobiKwik Wallet is also useful to pay at online shopping sites. It offers 10% cashback on snapdeal.com, shopclues.com, yepme.com and makemytrip.com, 15% cashback on naaptol.com and infibeam.com, and 5% cashback on homeshop18.com and redbus.in. There are many more online shopping sites. You can check them all on MobiKwik app.
Maximum cashback is usually 100 Rs. I am not the fan of all those other sites except snapdeal.com. Products on Snapdeal are usually very affordable, 100 Rs. cashback on the top of that is a very good offer! Choose MobiKwik at the time of payment and you will receive cashback in your MobiKwik wallet in a short period of time.
4. Money Transfer
"A friend in need is a friend indeed". You can transfer the money in your MobiKwik walllet to your friend in need. There is the option inside MobiKwik app that allows you to transfer the money using the email id or mobile number of the recipient. Recipient should also be the active user on MobiKwik, as he will receive the transferred money in his MobiKwik wallet.
5. Cashback Offer on MobiKwik Wallet
MobiKwik offers cashback to its wallet users occasionally. For example, at the end of this December, MobiKwik offered 100% money back, if I fill 50 Rs. in my wallet on the same day. I filled 50 Rs. in my MobiKwik wallet to avail this offer. My MobiKwik wallet reflected 100 Rs. balance. You can always use some extra cash for mobile phone recharge.
MobiKwik is all about saving money on the top of regular offer price. If you are a Pizza lover, you can get 15% cashback on your Domino's Pizza order. The maximum cashback for Domino's Pizza is 150 Rs. I recommend this app specially for the collage students, who want to save some pocket money to watch movies and to talk to their friends on phone.
Note: The money you fill in your MobiKwik wallet expires after 6 months. Use your money within that period of time.
The MobiKwik App – 1. Android, 2. Windows, 3. iPhone.