Flipkart Offers, Discounts for January 2015
I have started this blog at the beginning of this year. This will be my first blog post, where I have consolidated all the Flipkart offers, discounts for January 2015. I like when I get a product at the lowest price possible and so I also want you to save money too. You should visit my blog posts having online discounts and offers for once a month or at least just before you go for online shopping. I will constantly update this page for the entire month of January 2015, so you could keep yourself up to date with all the latest discounts and offers.
Flipkart Discounts and Offers for January
Many people search for the Flipkart Coupons in Google, but to my knowledge, Flipkart never issue any coupons. They often come up with discounts and offers, but no coupons! Here are the discounts and offers from Flipkart for the month of January.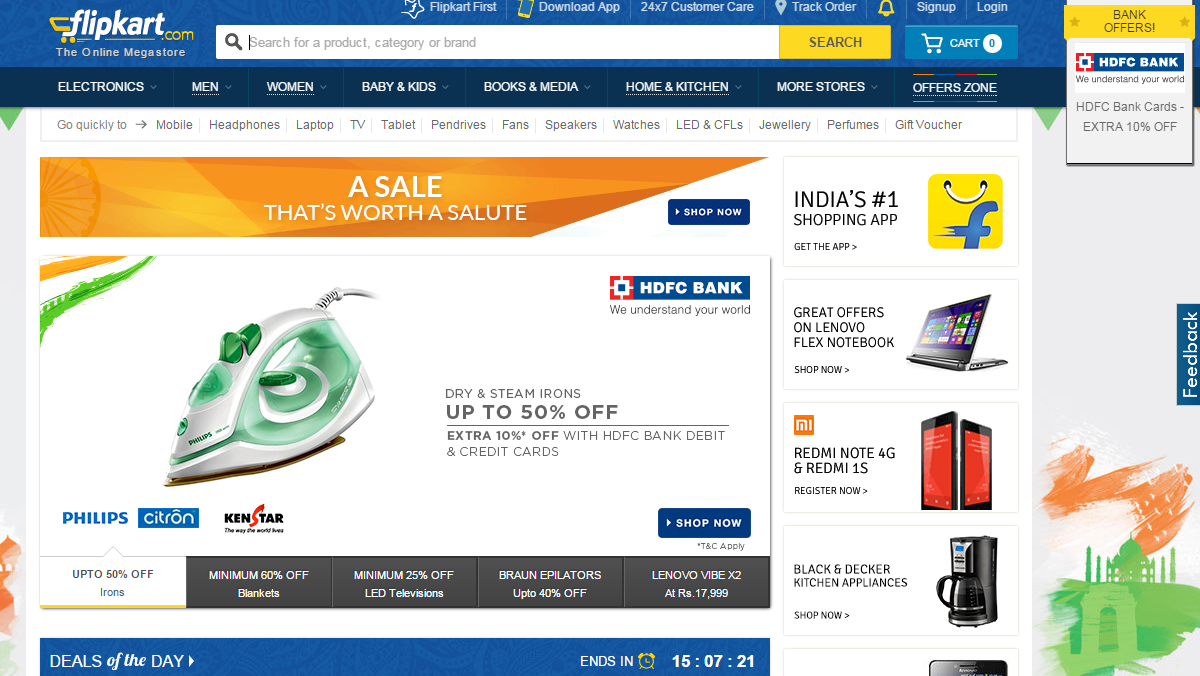 HDFC Bank Debit & Credit Card Offer
If you are buying something worth more than 7500 Rs. with your HDFC credit or debit card, you will get 10% discount! The maximum discount per transaction will be 2000 Rs. You can do 2 transcriptions per card. The best thing about this offer is that, this offer is applicable over and above all the existing deals and discounts.
Flipkart Offers on Mobile Phones
Check out these cool smart phones below. If you are looking for a low budget smart phone, this is the right time to buy one!
Exchange Offers from Flipkart on Mobile Phones
Are you tired by the low performance of your old phone? Do you want to switch to the new one? You can Exchange your old phone and get upto –
6000 Rs. off on Moto X.
4000 Rs. off on Moto G.
4000 Rs. off on Huawei Honor 6.
Flipkart Offers on Mobile and Computer Accessories
Check these great deals on media storage devices.
Other Flipkart Discounts
All these offers are valid from 19 January 2015 to 23 January 2015. I will update this post past 23rd January. Keep visiting this page for latest discounts, offers and deals from Flipkart.
If I publish a new blog post, how would you know about it!? That is why you should subscribe to my blog on Facebook, Twitter or Google Plus. So please go and subscribe to my blog and save money!