How to Deposit Cash at SBI ATM?
Can you deposit cash at SBI ATM center? Yes! you can! But you can not use ATM machine for this purpose. There is a special machine that allows you to deposit cash in your SBI account. It is called the Cash Deposit Machine, that is CDM. The machine is not available at every ATM center. Some ATM centers have CDM along with ATM. You can check the CDM center availability in your city on the special SBI map. CDM makes it possible to deposit cash anytime. You can even deposit cash on holidays. This is very good for those who do not get time in their busy schedule.
Find SBI CDM Center for Cash Deposit
But how to find SBI ATM Center which has CDM facilty? First of all, follow the link to open CDM Locator. Click View CDM Locations. Read the disclaimer and PROCEED. The map of SBI Finder will open. Select CDM category from the left side of the page. Type Address. You can just type the name of your city. Click Search. The map will show you the SBI CDM centers in your city. So now you know the location, where you can deposit your cash.
Deposit Cash at SBI ATM Center using CDM
How to deposit cash at SBI ATM center using Cash Deposit Machine? The picture of Cash Deposit Machine shown below. You have to deposit cash using this type of machine. The cash deposit process is given below.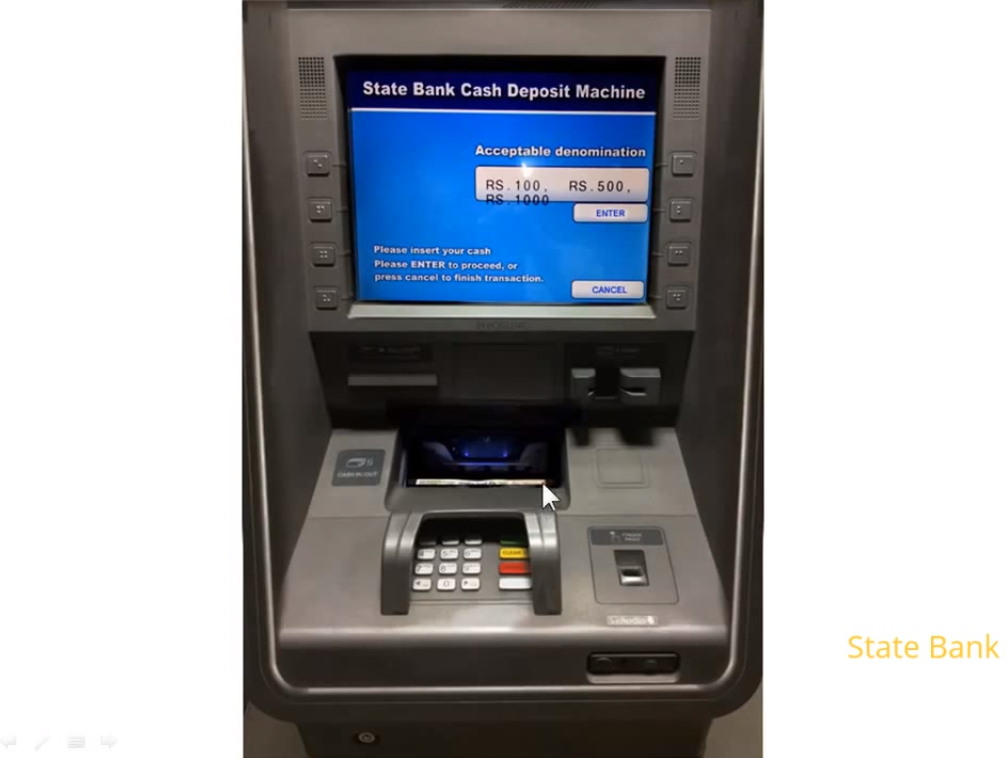 Insert the ATM card in the given slot for few seconds and then take it out.
Select Banking.
Select the language of your choice.
Enter your ATM PIN No.
Select Deposit.
Choose Cash Deposit.
You will see the message on the screen that,

you can not deposit more than 200 banknotes and the total deposit should not be more than 49900 Rs.

Select Confirm.
Choose the Account type, Current or Savings. People mostly have Savings account.

Only 100 Rs., 500 Rs. and 1000 Rs. banknotes are allowed

to deposit. T

he banknotes should be in good condition.

The shutter of the cash deposit slot will open now. Put your money in that slot and press Enter. The shutter will close.
The Cash Deposit Machine starts validating your cash.

If there is a fake banknote, the machine will keep it

. You will get the receipt for the same, which you can use, when you contact the bank manager.
You will see the summary of acceptable banknotes on the screen. You will also see the option to add more cash. If the summary is okay, then select Confirm.
The transaction gets complete and you receive the receipt of this transaction.
SBI Cash Deposit Help – Videos
You will find these videos helpful to get the exact process of SBI cash deposit. The first video is in English and the second one is in Hindi language.